so I was looking for shoes all afternoon and I hyperventilated when I found these. I was looking for thick bottom shoes and heels AKA wedges and I found a few that will definitely enter my "MUST BUY" list.. Bolivia sucks lol.. i went shopping last month looking for wedges and only found one pair and they didn't have my size I had to buy buy them in another color and style just to be satisfied.
Anyways these are the shoes i hope you guys like :) im gonna write the names of the shoes so you can also look them up and buy them if interested :)
first i found two pairs of awesome stripped wedges, horizontal and vertical stripes and i just fell in love the first thing i thought was a black T, leather jacket, beetlejuice leggings and the amazing wedges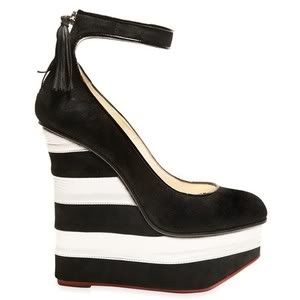 The second i saw these thick bottom pointed lolita pink shoes i imagined them with almost everything in my closet especially black leather leggings YUMMMM
and last but not leaste my favorites these, they are soooooo CUTE! im just obsessed and I need them in my life.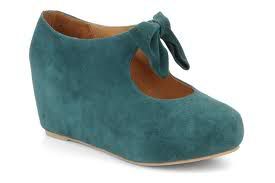 labels:
blue
,
bows
,
cute
,
green
,
jeffrey campbells
,
lolita
,
sarenza
,
shoes
I know they would go with EVERYTHING AND ANYTHING they look super comfy and besides just imagine a simple top any pair of jeans and these shoes to match just adorable! I love lolita style, I mean I know I definitely wouldn't be able to work it as I wish i could to but its amazing to look at. These are jeffery campbell lolita styled shoes i found them in the store "Sarenza" so be happy to look :)
have a nice Wednesday!!! will be posting pics soon :)